Greetings
"Musik Fest Nara" is a music festival, which was first held in 2012.
I hope, holding a music festival that takes advantage of the charm of Nara, brings the promotion the culture, and the cultural exchange of the audience and performers gathered to Nara from home and abroad. We also aim to "The promotion of local by using the culture ".
The first "Musik Fest Nara" was held for 11 days from June 14, 2012. About 38,000 people, far beyond our target 20,000, enjoyed the music in the ancient capital Nara.
This year we expand the period to 17 days. We have a wider variety of programs and venue. In addition, events such as art and food will also be held, you will be able to enjoy fully the culture of the ancient capital Nara period.
We hope to share the splendor of the Musik Fest with many people, and it will be a music festival in Nara to be proud of in and out. We ask for your support and cooperation in the future.
As a final note, we would like to thank those who were instrumental in holding.
Musik Fest Nara Executive Committee Chairman
Shogo Arai
Governor of Nara Prefecture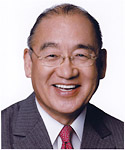 Shogo Arai
Governor of Nara Prefecture

Outline
| | |
| --- | --- |
| Title | Musik Fest Nara 2013 |
| Theme | Resonating sound and people in ancient city |
| Period | June 14 (Fri) to June 30 (Sun), 2013 |
| Gathered scale | More than 60,000 people |
| Venue | Prefecture cultural facilities, temples, stores in the town |
| Sponsorship | Musik Fest Nara 2013 Executive Committee, Nara Prefecture |
June 14 (Friday) to 16 (Sun) 3 days of exchanges and bustle
June 21 (Friday) to 23 (Sun) 3 days to enjoy the whole family
June 28 (Friday) to 30 (Sun) 3 days of Finale, full of music